Add multiple links in your Instagram bio
Share more content to your community with a single bio page and convert your Instagram subscribers into customers, viewers, fans, ...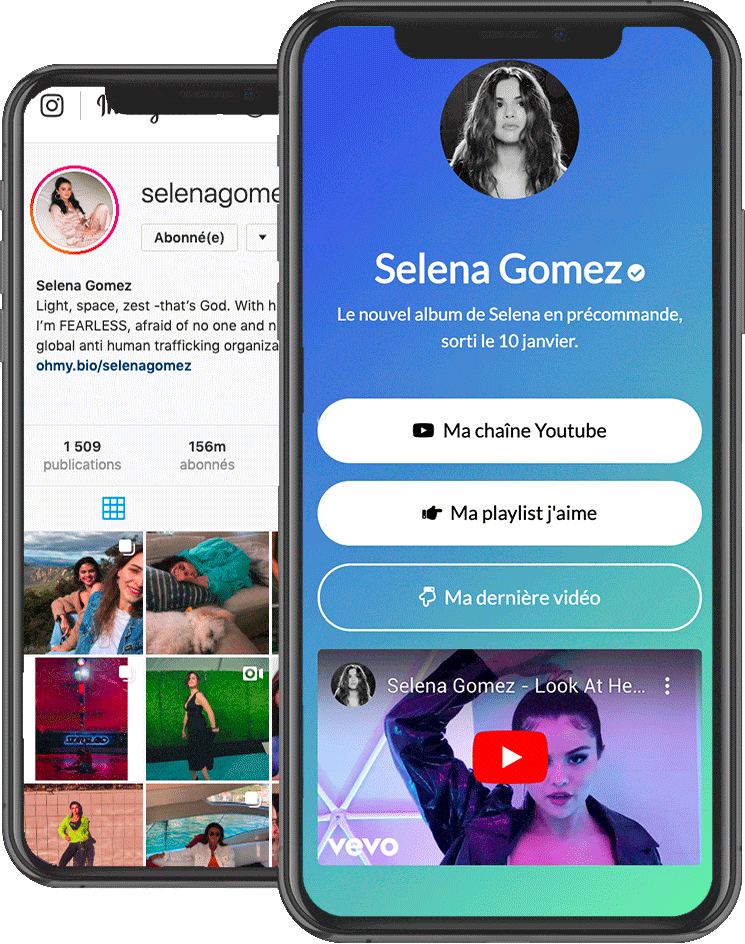 Do not limit yourself to one link
Simply create and manage your OhMyBio pages so your community can access all of your content easily. Insert up to 10 links in your Bio page and highlight the content of your different platforms. *

The perfect tool for sharing your various social networks, your Spotify playlist, your latest YouTube video and your website link via a single link.

*OhMyBio integrates Twitch, YouTube, Sound Cloud, Spotify and Vimeo in a specific way.
Do not waste time adding or removing links permanently. You can now anticipate the promotion of your links by defining the date of appearance and disappearance of your different links through the programming tool.
Learn more about this feature.
Have a choice of predefined settings to make your page fun to visit. Or let your creativity speak by fully personalizing the look and feel of your Bio page.

Texts, button shape, animations, profile picture, color and background gradient ... everything is fully customizable.
Learn more about this feature.
One account, multiple projects
Work in project mode and set one for you, one for your friend and one for your business, all on one and the same OhMyBio account. In premium offer create up to 10 projects and insert up to 100 OhMyBio pages.
OhMyBio also allows you to decrease the length of your links thanks to its link shortener. To transform that:

http://jhfz.zrverv-rvkbjr.erv/erv-e.erv.ever-evr-v.evfv_efve/rv.ce-rv-.ervehgzehgf-cekrjbv.zrbke/jrvjehrbch-erbvjhpoazie.zpoekc/zenoekf/oekfzef-zejf-refnjrfbjkze.rjvbetrv-erfvrv.com
In this:
https://ohmy.bio/ma-page-perso
Learn more about this feature.
Chaque jour, obtenez des statistiques sur chacun de vos liens et découvrez lesquels sont les plus visités. Un excellent moyen de savoir quel contenu plaît le plus à votre communauté. OhMyBio prend également en charge l'intégration de Google Analytics et Facebook Pixel.
Learn more about this feature.
The integration of Youtube, Vimeo, Twitch allows you to finally share your last or favorite instagram video in your bio, in 1 click only.

Highlighting your content on instagram or other social networks will give you more visibility and more engagement on your videos.
Learn more about this feature.
Add your Spotify ou Soundcloud music to Instagram with the OhMy.Bio app and redirect all your Instagram subscribers to your latest album, single.

A great way for you to promote your music!
Learn more about this feature.
Choose your package ✅
Choose and get your plan based on your needs.
🌟 PLUS
Annual Price: 42 EUR
No Ads
Removable OhMyBio Branding
Custom OhMyBio Branding
Custom OhMyBio Links Colors
Indepth Statistics
Google Analytics
Facebook Pixel
Custom OhMyBio Backgrounds
Verified Checkmark
Links Scheduling
Capture d'email (À venir)
Twitch Vidéo
Youtube Vidéo
SoundCloud Musique
Viméo Vidéo
Spotify Musique
Unlimited Projects
Unlimited Links
Choose Plan